Concerts & Recitals
From the full Handel's Messiah to our Music at Midday concert series, the music ministry of Saint John's is committed to the magnificent sacred songs in the Anglican tradition along with the performances of exceptional guest artists from many genres.
Guest Organist Robert McCormick
October 6-7, 2023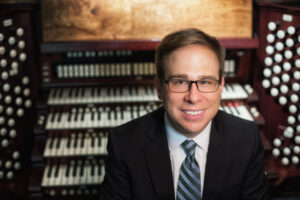 Mr. McCormick is Organist-Choirmaster of Saint Mark's Episcopal Church in Philadelphia, and he serves on the organ faculty of Westminster Choir College. Renowned as an improviser, his recital will feature improvisations on submitted hymn tunes.
Friday, October 6 at 7:30 p.m.
Organ Recital by Robert McCormick
Saturday, October 7 at 10 a.m.
Improvisation Masterclass with Robert McCormick
Presented by the Tulsa Chapter of the American Guild of Organists
The recital and masterclass are free and open to the public.
Music at Midday – Fall 2023
Free Recitals on Wednesdays at 12 noon
September 6
Edmund Mily, bass baritone
Joseph Arndt, organ
September 13
Joseph Arndt, organ
September 20
Timothy Olsen, organ
September 27
Amy Cottingham, piano
October 4
OTIS Trio
Dawn Lindblade, clarinet
Tess Remy-Schumacher, cello
Sallie Pollack, piano
October 11
Cathy Venable, piano
October 18
Cappella Chamber Singers
Kim Childs, director