Children & Families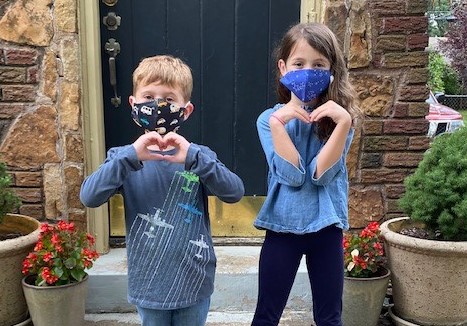 About those colorful masks...masks are not required for kids, but encouraged for children or anyone unvaccinated for COVID-19. Also, some additional safety precautions are still followed in our Nursery and for non-vaccinated children between 5 and 12 years of age. Have questions? Please email Josh Corsaro at jcorsaro@sjtulsa.org.
Acolyte Opportunities for Kids and Teens. If you have a young person in your family with an interest in serving during worship as an acolyte, we'd love to chat with you. Teams are being formed now. For details, email Josh at jcorsaro@sjtulsa.org.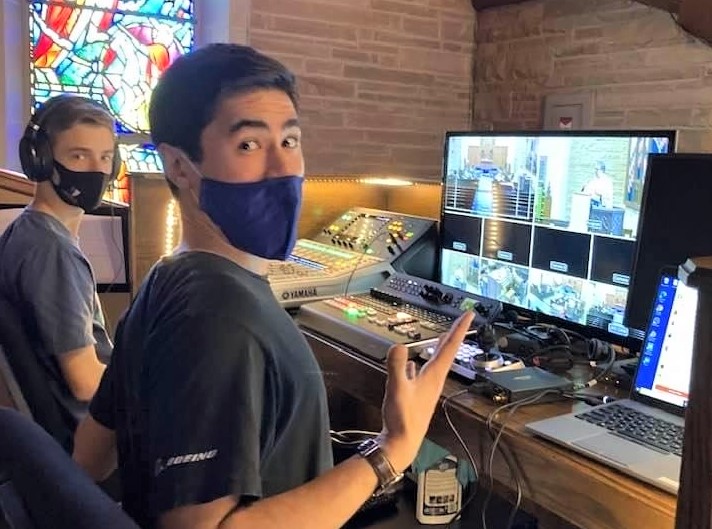 Tech Crew. Interested in serving on our audio-visual team? We'd love to chat with you. Have questions? Don't hesitate to email Josh at jcorsaro@sjtulsa.org.
The church is planning many other fun days for kids and their families. Check out our Event & Activities link in the top menu bar of the website for more opportunities. A super fun and spiritually meaningful event for children and their parents was the production of our annual Christmas Eve "tableau." In the photo below you will see our Your Director, Josh Corsaro, talking with a few of our many little parishioners about their speaking parts in this program.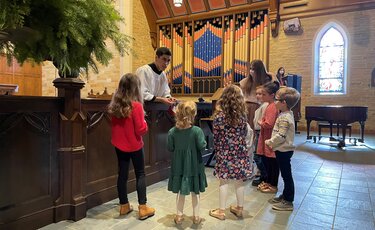 Choristers. This academic-year program is for children and youth in grades K-12. We want to congratulate all the choristers for their performance on Easter Sunday. They did such a wonderful job! Now with summer here, we will be wrapping up our program year on May 11. We will resume again August 24. Contact Josh Corsaro or Joseph Arndt if you'd like to learn more about this wonderful way to connect young people to the beauty of worship.
Sunday Programs for Kids
Nursery
Our nursery opens at 9:00 a.m. and accommodates children between the ages of infant to four years. Our goal is to allow children to not only have a safe environment to play in, but to also help them grow in understanding of God's love. Have questions? Email Josh Corsaro at jcorsaro@sjtulsa.org.
Children's Chapel
This programming is for children pre-K through sixth grade and focuses on building a foundation for children to engage with the flow of liturgy. Children will have the opportunity to read the Gospel lesson and do an activity related to it. Children's Chapel meeting during the 10 a.m. worship service. Children join/follow the acolyte during the sequence hymn near the beginning of worship and return to the Nave and their family during the announcement time. Have questions? Email Josh Corsaro at jcorsaro@sjtulsa.org.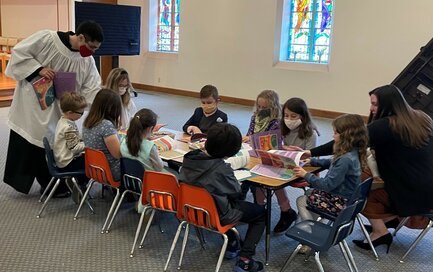 Sunday School
Offered at 11:15 a.m. each Sunday, our children's formation lessons follow the day's lectionary. Learning more about the Bible, the life of Jesus, and fun activities are at the heart of our Sunday School programming for ages five to twelve years.
Currently, we are using the Storymakers curriculum. Storymakers focuses on engaging Bible study through little skits and crafts. For information on Storymakers, visit: https://www.storymakersnyc.com/.