Wednesday Evening Adult's Bible Study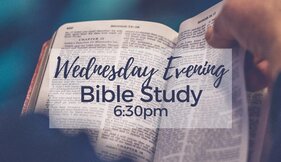 On Wednesday evenings after Holy Eucharist, Father David began leads a Bible study in our Common Room. Join Saint John's parishioners as our Rector shares his insights on the Bible and Gospels from 6:30-7 p.m.
This class is an in-person offering, but please not you can also catch the audio version of most classes after the fact. The classes post early each week following the Bible study. Check out our "Get Connected" page for more details on these archived listening and learning opportunities.