Stewardship Campaign 2021: All In!

Welcome! Throughout the last eight weeks we have been sharing the stories of how this church community transforms hearts and lives. While our official campaign "drive" of films and testimonies has concluded, our end-of-year donation and pledge season is still very much open. Please join us!
At Saint John's Church, we are ALL IN! We are all in for youth and families, for music, for modern ministry and digital outreach, for community, for education, for Christ and for you! Check out the heart-felt thoughts of our rector, our stewardship chair, our pledge drive committee and many more parishioners below.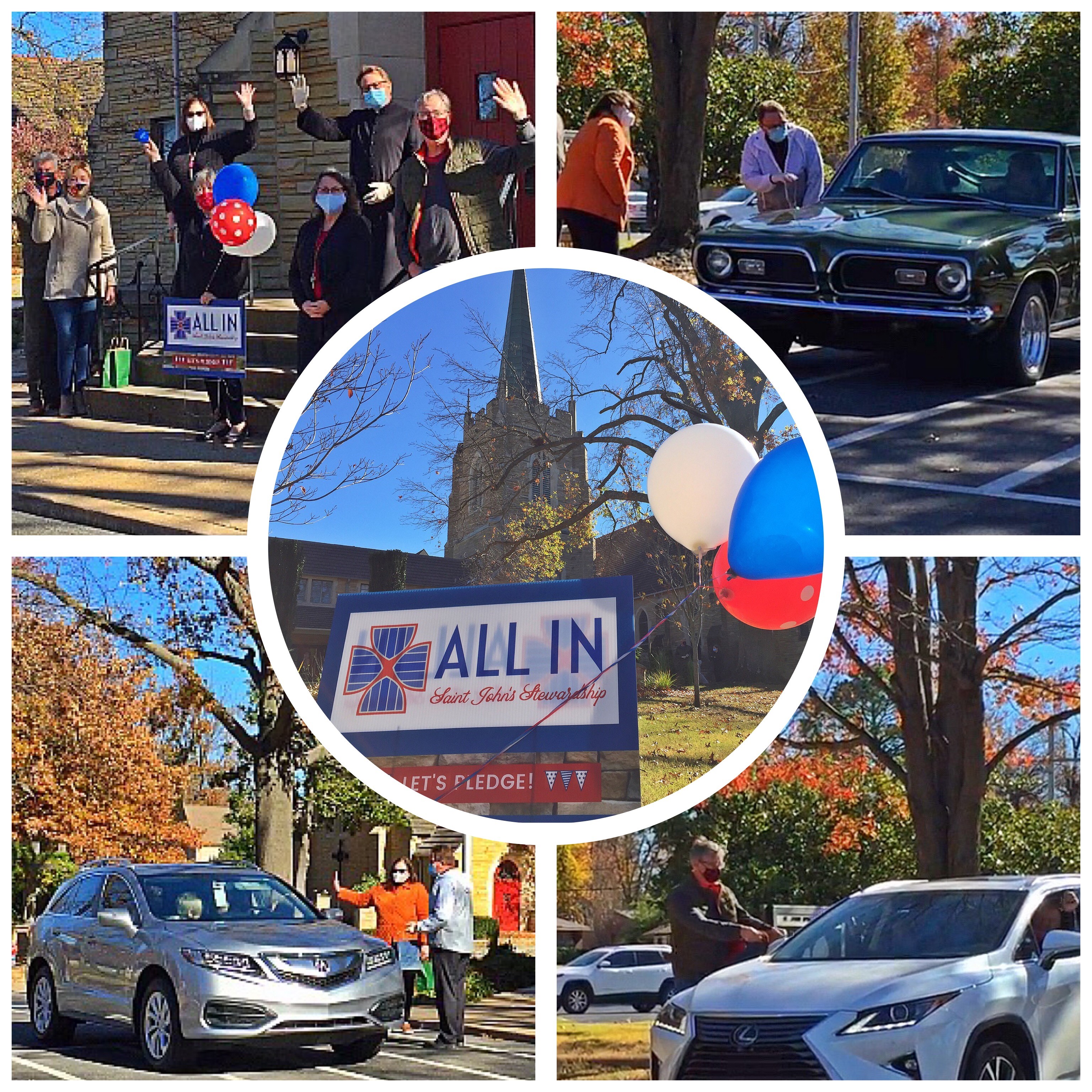 The All In Drive In event in mid-November was a fun day of honking, cheering and even cow bells! Thanks to all who participated.
To make a pledge for 2021 between now an the end of the year, please select the Pledge Form tab (in the Giving pull-down options). Or, to make a donation now, please select the Donate Today tab (in the Giving pull-down options). And, learn more about our supportive church family below!
Check out our parishioner "why I give" messages following the videos.
Check out our parishioner "how Saint John's supports me" videos here:
The Joiner-Estes Family - https://www.facebook.com/watch/?v=670804650302301
Barrett Waller - https://www.facebook.com/133327146707533/videos/2769767299956556
Steve & Phyllis Anderson - https://www.facebook.com/133327146707533/videos/802324103924497
Joseph Arndt - https://www.facebook.com/sjtulsa/videos/720746448785274
Nick Bradford - https://www.facebook.com/133327146707533/videos/690992001541405
Jessica & Fred Stowell - https://www.facebook.com/133327146707533/videos/337880970644562
Lauren Houston, Shane Gilley & Little Otis - https://www.facebook.com/133327146707533/videos/340043983907679
Peggy & Tom Schroedter - https://www.facebook.com/133327146707533/videos/1028176714305167