Sept. 12 Rally Day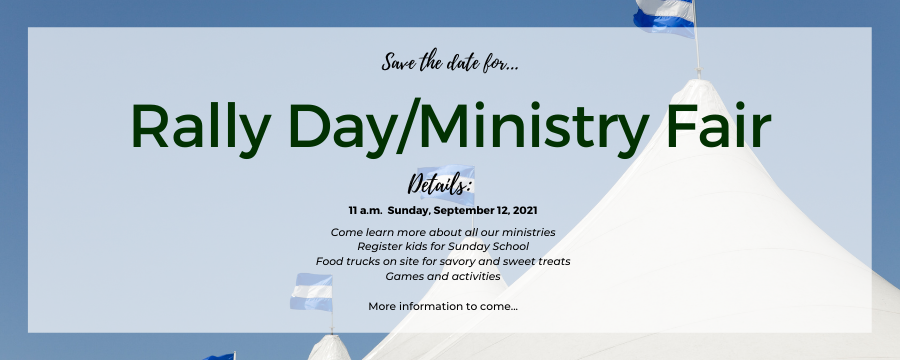 Anyone and Everyone - Save the Date to Attend!
Special details if YOU are the leader of a SAINT JOHN'S CHURCH group, guild or ministry -
It is time to reserve a table at the September 12 Rally Day ministry fair. The church office will be creating the layout for tables that you will turn into fun information and/or activity "booths" for your specific group. We'll assign the placements on a first-come, first-served basis.
We will be arranging complimentary food and beverages for this lunch-time event. We will also provide sign-up sheets for every booth so that we can record information about those who may sign up to join your meetings and/or volunteer for your group's future activities.
Once you have registered your group to participate, please:
secure two representatives who can "staff" your table from 11:15 a.m. to 1:15 p.m.
have materials to hand out about your group/mission
if you want to provide complimentary "treats" at your table, please stick to candy or cookies that are individually wrapped
consider a table-top game to offer at your table to win the treats you bring
develop a decoration theme for your table/booth! We will have prizes for some of the most colorful, educational and imaginative concepts you showcase on Rally Day
plan to be able to decorate and stock your table on Saturday afternoon, September 11, between 3 to 5 p.m.
Start making your plans today! The neighborhood and broader community will be invited to our ministry fair. Let's share all the awesome fellowship and opportunities with everyone who attends. We want to help you grow your ministry!