Groups & Outreach
At Saint John's Church, we have a group, guild, lay-led ministry, or outreach opportunity for just about anyone. Looking for something casual with fun and fellowship? We've got your covered. Wanting to dive deeper into service and prayer? We have a group for that. Looking for ways to serve beyond the walls of the church and campus? Let us help plug you into a great community cause. Below are just a few of our lay ministries and groups. Feel free to reach out to the coordinator noted by each if you would like more information. And, you are always welcome to contact the church main office if you can't readily find the details you are looking for!
Local Chapters of National Ministries & Outreach -
Brotherhood of St. Andrew
The Brotherhood of St. Andrew has two groups that meet weekly at our church to offer intercessory prayers as well as to enjoy food and fellowship. The Brotherhood is called upon to "feed his sheep" at various parish events. The Brother's mission is to minister to men and youth through study, prayer, and service. All are welcome. To learn more, contact Bob Baker at bobbaker688@gmail.com.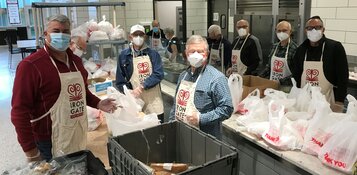 Iron Gate
The first Saturday of each month, members of the Brotherhood join other Saint John's parishioners to work at Tulsa's Iron Gate mission to prepare food for and feed those in need in our community. If you'd like to get involved in this service opportunity, contact Bob Baker or Josh Corsaro at jcorsaro@sjtulsa.org.
Daughters of the King
Members of The Order of Daughters of the King pledge themselves to a life-long program of prayer, service and evangelism. They are dedicated to the spread of Christ's kingdom and the strengthening of the spiritual life of the parish. Founded in 1885, Daughters is a world-wide organization of Anglican, Episcopal, Lutheran (ECLA), and Roman Catholic churches.
Empowered by the Holy Spirit, the vision as Daughters of the King is to know Jesus Christ, to make Him known to others, and to become reflections of God's love throughout the world. Membership is a life-long commitment. Women who are interested in membership are asked to participate in a twelve-week study course before making the commitment to join. When a Daughter takes her vows, she is voluntarily responding to The Order's fixed goal, "the spread of Christ's Kingdom."
Daughters serve at Saint John's Episcopal Church under the guidance of the Rev. David Bumsted, our rector. It is the purpose of Daughters to assist him with the spiritual matters of the church. Collectively, Daughters pray for the church, members, and staff, and any other prayers that have been requested. Service and evangelism programs are the response to the rector's requests. If you would like to learn more about joining the Daughters or requesting prayer, Janice Ingle at janiceingle@me.com.
Edison Preparatory School
One of the locations in our neighborhood that the Daughters, along with our church staff and congregation, have been actively engaged in assisting during the past two years is Thomas Edison Preparatory Middle & High School. A public school, this campus is a few blocks from Saint John's. It has a large proportion of students who face food insecurity issues. And like many schools in our state, funding is low and teachers face increasing challenges and burnout.
Our church is honored to help the Edison leadership with projects that fit our abilities. These have included helping raise money to underwrite the cost of graduating seniors attending end-of-year functions off-campus, coat and hoodie clothing drives, donating supplies for the nurse's office, and donut "thank you" treat delivery days for teachers during the pandemic. We wrapped up 2021 coordinating a holiday lunch for all 180 faculty and staff during finals week in 2021. We extend many thanks to the Daughters for baking more than 300 cookies for the Edison employee appreciation lunch event!
To learn more about outreach opportunities with the Edison school, contact Josh Corsaro at jcorsaro@sjtulsa.org.
Prayers and Squares
This group of committed people provide support and comfort for those in need of healing. The group constructs quilts which are blessed at worship services and upon which knots are tied and prayers offered by parishioners. To volunteer or request a quilt for a person in poor health, please email Jessica Stowell, jstowell@ou.edu.
St. Barbara's Guild
St. Barbara's Guild of sisterhood of women and has been a part of the parish for fifty years. This service organization fulfills parish obligations and service upon request, often in the kitchen and hospitality areas. The purpose of St. Barbara's Guild is to serve the parish, support various outreach programs and projects, and to care for one another. To learn more, Diana Carter in the office at dcarter@sjtulsa.org.
Afghan Refugee Household Needs Drive
Working with lead agency, Catholic Charities of Eastern Oklahoma, our congregation held a donation drive for supplies to benefit Afghan refugee families resettling in the Tulsa area. Last year Oklahoma welcomed more than 1,800 individuals from Afghanistan and more than 800 relocated into the Tulsa metro area. We were happy to assist and pleased to partner with CCEOK due to their expertise in this work. In December of 2021 our parishioners and staff shopped for, purchased and delivered two pickup truck "bedfuls" of new items to help our newest citizens create cozier bedrooms, fill backpacks for school needs, and stock kitchens with much-needed utensils for their families. To learn more about helping the CCOEOK refugee resettlement efforts, visit www/cceok.org/refugees.

Ways to Serve During Worship and at the Church -
Altar Guild
The women of the Altar Guild lovingly ensure the vestments, linens and communion vessels are ready for use at Holy Eucharist, weddings, funerals, and baptisms. If you have a heart to serve at Christ's table, contact Janice Cline at cline952@sbcglobal.net.
Flower Guild
The Flower Guild teams prepare floral arrangements for the church each week, on holidays, and special occasions. Women on the flower teams create floral arrangements used for regular services, and funerals and weddings, when requested. If you love working with flowers and serving to make our worship beautiful, this may be a great place for your heart and talents. To find out more, contact Lise Dean at ilise1@me.com.
Lay Ministers
Lay Ministers serve as lectors, intercessors, and chalice bearers during worship services. These lay team members are licensed by the Bishop after a course of study led by clergy. If you would like to learn more about this important and solemn duty, contact Diane Morrow at dmorvoce@att.net.
Lay Readers
Lay Readers also service the parish during worship services and the Daily Office. The readers licensed by the Bishop after a course of study led by the clergy. If you'd like to discuss joining the rotating team of readers, please contact Diane Morrow at dmorvoce@att.net.
Ushers
At Sunday services, ushers greet people at both our nave entrances, distribute bulletins, assist the clergy, take up the offering, and obtain oblations. Ushers help our service logistics run smoothly, provide directions to newcomers, and are usually the first friendly face and voice we each encounter when arriving at the church for a service. Would you like to join an ushering team? For more information, contact Jim Mulcahy at jimmulcahy@aol.com.
Fellowship for Anyone -
Holey Stitchers
The Holey Stitchers coordinator says the the group has no grand purpose other than fellowship. Stitchers use their meeting time as an opportunity to get together, work on individual stitching projects, and enjoy one another's company. The projects vary: knitting, cross stitch, sewing, embroidery, and needlepoint. Meetings usually last a couple hours, although that's not set in stone. If you would like to know more about attending, email Dianne at dianne.schooley@cox.net.
St. John's Book and Gift Shop
The book and gift shop at Saint John's provides a wide variety of traditional and trending items for home, for holidays, for special occasions, and more. Merchandise includes baby items, gifts, books, greeting cards, jewelry, and Bibles. Profits are contributed to Saint John's outreach. Volunteers are always needed. If you are interested in working in the shop, email Susan Lyons at sslyons@sbcglobal.net.
St. John's Players
This amateur theatre group began officially in 1991 and since then many wonderful productions have been staged including Godspell, Fiddler on the Roof, The Wiz, You're a Good Man Charlie Brown, Mousetrap, Arsenic and Old Lace, Bye Bye Birdie, and South Pacific.
Parishioners and friends from ages three to seventy-plus have been participated in the Players group. Since the first performance, over 130 individuals have been involved in all phases of production from acting to music, set building, costuming, lighting, and many other behind the scenes jobs. St. John's Players has a place for everyone interested in theater or related arts. For information email Nick Bradford at tulsamasterstylist@gmail.com.
Tuesday Trekkers
This walking group will be a "no reservation needed, come as you are, low commitment, bring a friend, family member (or your dog), no cost, leave the politics and gossip behind" sort of posse you can count on. The Trekkers will take off each Tuesday evening at 5:35 (p.m.) sharp from the Saint John's labyrinth (west wide of the church) for a two-mile, 45- to 60-minute trek through our wonderful midtown neighborhood.
Dress for the weather, bring a water bottle, catch up with old friends, and make new ones! We request that if small children come along, they participate in a wagon or stroller so that we can help our adult friends enjoy fitness time as well as fellowship time (and so we end by 6:35 p.m. as promised). Watch our church Facebook community page for any weekly updates or day-of weather cancellations. Questions? Email Mary Waller at mwaller@sjtulsa.org. Walk with us as we go outside with God!
Helping our Neighbors -
As noted in our groups section above, Saint John's parish is active with several outreach opportunities, and some are on-going. Two of those are described below. If service to one of these community non-profits calls on your heart, give our office a call and we'll endeavor to plug you into the next project! If you have a new idea, we'd love to hear about that as well. New outreach suggestions should be directed to Father David Bumsted at dbumsted@sjtulsa.org.
Iron Gate
Join your parish friends for a shift to help serve our neighbors in need at this wonderful ministry in downtown Tulsa. On the first Saturday of each month, a group of Saint John's members endeavor to gather for this service opportunity and work as a team. To participate you must sign up through the Iron Gate website. All you need to do is register for an available shift (once, or often...it's up to you!).
To learn more about this important social service program, contact Josh Corsaro at jcorsaro@sjtulsa.org.
Edison High School
Located just up the street from Saint John's, Edison Preparatory Middle and High School has a variety of needs that our staff and parish members often help out with. From taking treats to the teachers and staff for "appreciation days," to buying select supplies, to underwriting the cost of events for high school seniors with financial need...we are delighted to be partners in helping fill the gap for our Edison Eagle students and faculty. Want to know more? Contact Josh Corsaro at jcorsaro@sjtulsa.org.