OBI Blood Drive Feb. 12
February Community Outreach - OBI Blood Drive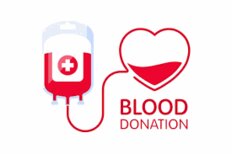 Saint John's will host the Oklahoma Blood Institute as they offer a whole and double-donation blood drive on Saturday, Feb. 12 from 11 a.m. to 2:30 p.m.
All are welcome to participate, and walk-ins are welcome. However, you should register in advance to guarantee an appointment time. There are twenty-two (22) donation times. Follow this link to the OBI website to make a reservation to donate: https://www.yourbloodinstitute.org/donor/schedules/drive_schedule/383904
Notes:
· During this event attendees must wear a mask at all times in the church.
· The blood drive will be in the Common Room. Enter through the east red door nearest the bell tower.
· All donors must bring a photo ID.
· The minimum age to donate is 16 years. 16-year-old donors must weigh at least 125 pounds and provide signed parental permission.
· 17-year-old donors must weigh at least 125 pounds but do not need parent permission.
· All donors 18 years and older must weigh at least 110 pounds.
Have questions? Contact our parishioner project leader for this outreach, Nick Bradford, at: tulsamasterstylist@mail.com.