Father David's Monthly Messages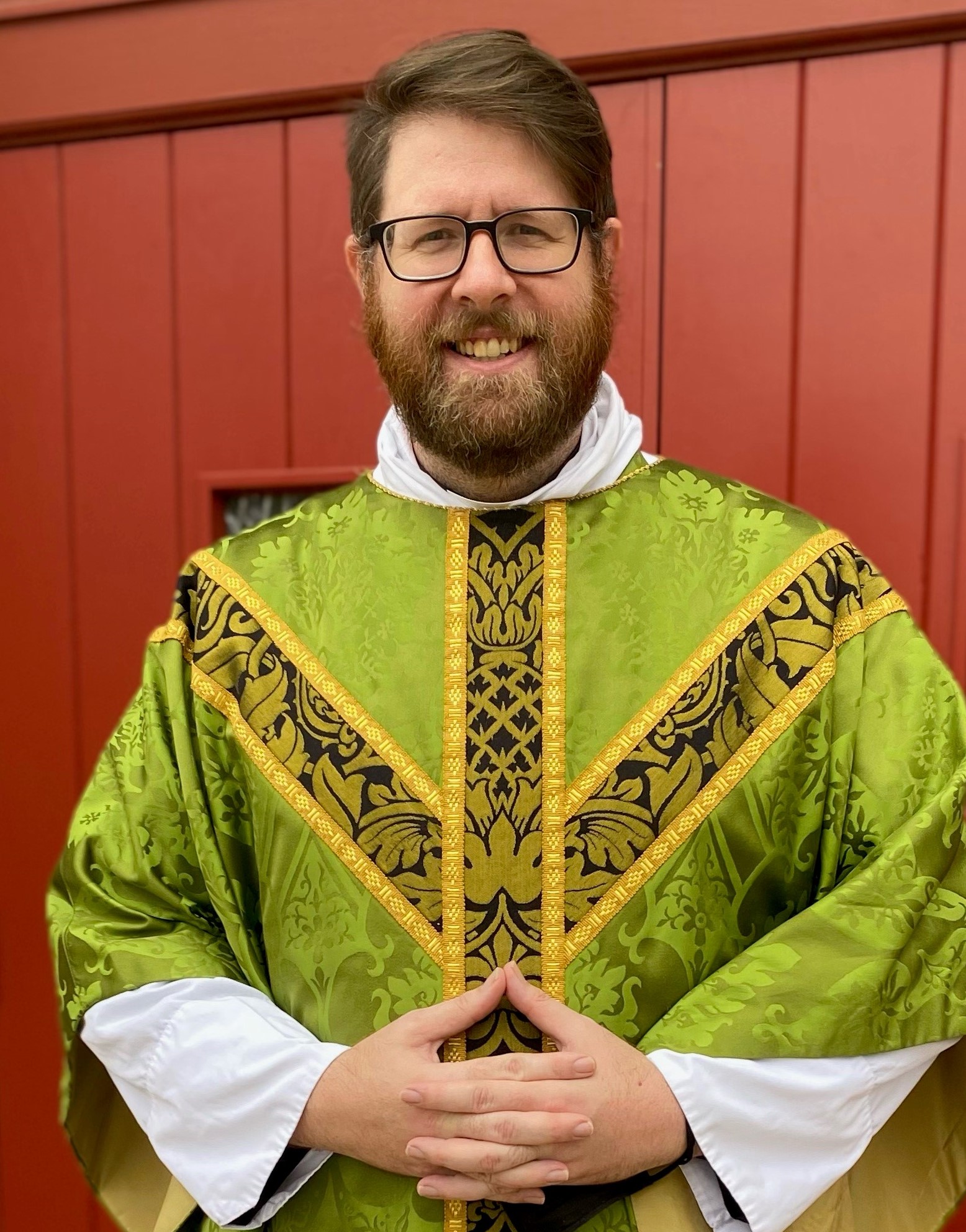 A Message from Father David form the Evangelist Newsletter
Sept. 1, 2021
Greetings!
Way back in March of this year, I shared with you how much I'd been moved by St. Paul's encouragement to the Romans, especially in the beginning of the letter's twelfth chapter. Romans 12:2 reads: "Do not conform to the pattern of this world, but be transformed by the renewal of your mind." I am grateful that it has remained on my mind throughout the year and the other day, the beauty of Paul's and its relevance for our life together was made even more manifest.
Some months ago, by crashing a Biblical Languages study session hosted by our own Josh Corsaro, I met a young Hebrew scholar who is currently teaching at ORU. We struck up a friendship as we continued to meet and read through various passages of the Bible. The other day, we returned to the Scripture and I mentioned that Romans 12:1-2 had been on my mind for many months. As our conversation wore on, we realized that we hadn't thought about how that text works with Paul's preceding point. We decided it was worth investigating to see if there was something we'd missed. Indeed we had!
In Romans 11, Paul steadfastly refused the idea that God had completely abandoned his promised given to the people, patriarchs, and prophets of the Old Testament. As Paul finished out chapter 11, he lamented that his kinsmen had not accepted Jesus as the Messiah, even as the Gentiles around them were coming to know Israel's Redeemer by Jesus' Gospel. Even still, Paul grounded the uncomfortable situation in the mystery of God's wisdom. In verse 11:33 Paul wrote, "O the depth of the riches and wisdom and knowledge of God! How unsearchable are his judgments and how inscrutable his ways!" It seems like he left a bit of a cliffhanger, as if he was throwing up his hands and saying, "Well, I guess we'll never actually figure this one out." Much to our delight and surprise, Paul was leading us in a much more hopeful direction in his letter. Romans 12 begins with an appeal for the church to offer their bodies, their lives, as a spiritual offering. And by the end of verse 2, he wrote, "that [you all] would prove what is the will of God, what is good and acceptable and perfect."
Dear ones, the delight came for us in the recognition that the depths and richness of God's wisdom is shown forth in the Church working together as the Body of Christ, a wonderful image Paul developed in the rest of Chapter 12. In the busy season of ministry ahead of us, one which will call on each and every one of us to serve as living members of Christ's body, I pray that you will be similarly delighted as you participate in the unveiling of God's love, truth, and beauty in Christ. I, for one, delight in the opportunity to serve with you!
Your friend,
-D+
Aug. 1, 2021
Greetings!
For so many of our families, the turn from July to August is "go time." It's time to go get the most out of the waning days of Summer vacation. It's time to go shopping for back to school. and for our college students, perhaps even time to go off to campus.
In ministry, I often think of August as "go time" as well. As our families send their kids back to school for their academic formation, so do opportunities for Christian formation come back into our parish life. We've got a busy schedule ahead of us, and I am excited to encourage greater activity and growth for our programs for all ages!
While Beka and I were away, the importance of robust and active Christian education came into focus in a new way for me. We have a habit of visiting churches wherever we go, and we came across a Vespers service being offered at a local English-speaking Eastern Orthodox congregation. Having only read about Eastern Orthodoxy history and practice in books, I was genuinely excited to participate in what is roughly analogous to that great tradition's Evensong. What we found in that service was absolutely beautiful, but also completely alien in terms of its rhythm and idiom. Many of the texts used by the officiants were familiar but deployed very differently than we would be used to as Western Christians. I could tell that the journey towards proficiency in this tradition would take time, effort, and discipline; a process that I remembered fondly in that moment as I recalled all the time it took for my mentors to walk me through the prayer book tradition.
But what I found genuinely moving was the care that parents had for showing their children how they could participate in the service, how the children could make their parents' practice their own. Watching a young girl reverently light a candle in the sandbox and say a prayer with her father was humbling and sweet. As a newcomer to this liturgical world, I dare say that for a brief moment, I longed for that same kind of mentorship as I stumbled awkwardly through the rest of the liturgy.
I am deeply grateful for the experience, even as it confirmed my deep love of the Book of Common Prayer and the familiar patterns of English spirituality present in our tradition. And I came away excited for backpack blessings, children's chapel, rector's forums, newcomers classes, and all the great formation offerings to come. Therefore I pray that we would greet with zeal the program year to come, seeking after Christ to make him known within our walls, within our families, and to all peoples who would hear the Gospel anew or afresh. It's going to be great and I'm very much looking forward to it!
Your friend,
-D+
July 1, 2021
Greetings!
I pray that your summer is going well! And by that I really mean, I hope you have been able to get some rest and relaxation in. As I write this, I'm grateful that several of our staff have already begun their summer vacations. It's a little quieter around the parish without their company, but it is a very good thing that they, and you, can get some time for recreation.
The quieter days of summer always bring my mind back to the Sabbath, the seventh day of rest, pronounced by God at creation. The Sabbath is a rich topic for consideration and meditation, especially because it is such a unique idea in the ancient world. In the twenty-first century, many of us have a couple of days each week to do "not-work" stuff. Some of us get a single day for that. But throughout the ages, a day for "not-work" would have been unthinkable, a waste of a day's wages or labor, even seen as irresponsible for those with mouths to feed at home. And yet, throughout the Scriptures, God consistently calls his people to hold a particular day out of the week for rest, for "not-work."
History shows us that the idea of the Sabbath has caused much debate over the millennia, and we can even see that in the Gospels, Jesus was in regular conversations with his contemporaries about the nature of the Sabbath (Matthew 12 would be a good place to start looking if you're curious). Despite the many disputes around the Sabbath, the insight behind the command to "keep the Sabbath day holy" is that human beings need to rest so that we do not become exhausted; and human beings need a chance to recognize that God will provide for us. Thus, in taking a day for "not-work," the ancient Israelites were meant to have a day where they relied on God and His provision for them; placing all cares, occupations, and burdens on God. There's not enough space here to unpack how amazing this is, but for now, we can consider anew that Christ, as Lord of the Sabbath, means for us to find our truest peace and rest in him.
Which is to say, as the gathered people of God hard at work in the vineyard of our wonderful parish of Saint John's, it is very good for us to get the rest we need. And when we do so, let us rest not apart of Christ, but rejoice that by his blessings are we truly re-created. Thus even by our rest is Christ magnified because by true recreation, by our recognition of God's provision for us, and by His life in us, can we be ready for whatever is coming next.
A restful recreation in summer means an exciting fall ahead, beloved!
Your friend,
Father David+
June 1, 2021
Greetings!
The day before I composed this note to you, I visited the nave of the church. I do this multiple times on any given day for various reasons but yesterday I was thoroughly gratified by a seemingly small detail. There were prayer books and hymnals present in the pew racks. I was surprised at how relieved that made me, to be honest. In all the months of coronavirus protocols, at two parishes mind you, it had not occurred to me how much I missed that detail of regular church life. It was a small joy, but a joy nonetheless to see Saint John's pews once again adorned with our most basic liturgical resource for the first time.
How much more will my joy be complete to see you adorn our pews once again, beloved! It has been magnificent to be with you all as folks in our community become more comfortable in returning to worship and parish life in general. On the Day of Pentecost, a number of us relaxed, ate some lunch, and enjoyed each other's company. In some historical sense, it was not particularly noteworthy for us to drink lemonade and watch the kids play soccer with Mr. Josh. And yet after so long a fast from enjoying one another's company, the simple and profound joy of a parish picnic is impossible to deny.
Prayer books in the pews and people at a picnic are yet more signs of God's continued provision for us. As you read this, our parish is in the process of carefully reopening to an extent that you have not seen since the early days of 2020; to an extent that I have never seen at all! I find all of this tremendously exciting and I hope you do as well. The parish opening offers many ways for us to serve together once again and this summer I hope you will prayerfully discern where you can get involved! In the worship life of the church, we have many opportunities coming back for Altar Guild, Lay Eucharistic Ministers (LEMs), Readers, Daily Office Readers, Acolytes, Acolyte Wardens, Choir, and more besides. This season also grants new opportunities for you to consider joining one of our many groups like the Daughters of the King, St. Barbara's Guild, Prayers and Squares, the Brotherhood of St. Andrew and so on. New things are even popping up these days and I have very much enjoyed one of them called Tuesday Trekkers.
I'm sure the weeks, months, and years ahead will offer yet more new opportunities for involvement and community! Thus will our great parish truly be adorned, in Christian worship, service, and community. May Christ's peace and joy be with you and may his holiness adorn you and your family this summer!
Your friend,
Father David+
May 1, 2021
Eastertide Greetings!
I do not think it's an overstatement to say that The Great Fifty Days of Easter in 2021 are filled with the promise of new life. Here at Saint John's, every day contains more evidence that God is with us, helping us to bring the breath of life into aspects of our parish work that have laid fallow during the pandemic; helping us by energizing the faithful for worship, discipleship, and service. I've shared with you my excitement about the emerging beauty of our springtime flora, and now I rejoice in the opportunity to report the springtime of our ministry!
As people receive doses of vaccine and become more comfortable venturing back into parish life, I am happy to say that there are yet more reopening opportunities to come. Bishop Reed recently announced that many of the diocesan COVID safety protocols will lift at Pentecost. Some updates to our protocols here at the parish are forthcoming as I write this and many of the specifics may already be present to you by the time you receive this newsletter!
Which is to say, I am absolutely thrilled to begin dreaming about what God means to do in and through our life together here. Our liturgical calendar certainly bears this out. On the feast of the Ascension, Thursday May 13, Bishop Reed will be present among us to formally "install" me as your rector at the Celebration of a New Ministry. The Sunday following, he will again join us for confirmations, receptions, and rededications of faith. I am very much looking forward to welcoming our Bishop and hearing his voice as our diocesan shepherd. Once again, his ministry with us is a sign of life and faithfulness to the Gospel in an age where Christ's ministry of love and reconciliation are in profound need.
As May concludes with Pentecost and Trinity Sunday, we look forward to the baptisms of several of the parish's young children. What a joy it is to cap off the season of the Resurrection with the sacrament of New Life! The parents of our baptismal candidates have already approached the glorious day of their children's baptisms with remarkable zeal! I pray that their excitement would become part of our own, beloved. In the months to come, I believe that Saint John's ministry will be marked by renewal and refreshment. Just as the rush of the Holy Spirit's move inaugurated the mission of the Earliest Church at the first Pentecost, let us await the same Spirit to revive what has laid dormant, draw together relationships that have been distant, and empower us as Christ's people to extend his Kingdom!
Yours in Christ,
Father David+
A Message from Father David form the Evangelist Newsletter
April 1, 2021
Christ is Alive!
New life abounds around our beloved parish! The relatively early date of Easter this year means that our grounds, while certainly stoic and regal during the winter of Lent, begin to burst forth with the stunning color of new life and growth. I pray that what God reveals to us in the change of seasons would be emblematic of our time in ministry together!
In considering the spring with its attendant Eastertide, I often reflect on the fact that while Lent is made up of forty (or so) days, Easter is adorned with a Great Fifty Days. If Lent is a season wherein the faithful spend more time in solemn reflection and penitence, Easter is yet a longer season of celebration and proclamation. The Christian life requires all of these things, certainly, but I've always delighted that "Alleluias" of Easter last just a touch longer than the "Lord have Mercies" of Lent.
Eastertide also brings back the opportunity for the faithful to observe the Lesser Feasts, to recall the saints more fully without the penitential veil of Lent. My favorite feast of the season is Ascension Day, but I'll write to you more fully about that in May. On April 25, the Church will remember Saint Mark the Evangelist. His day falls on a Sunday, and with Bishop Reed's permission we can observe his day that weekend. One of the many fascinating features of the New Testament's shortest Gospel is Mark's sense of momentum and purpose. The word "immediately" is found many times throughout the text, and even cursory readers are often drawn into the quick pace of the narrative. I cannot help but consider a youthful enthusiasm in the work attributed to John Mark, an enthusiasm for Christ's messianic ministry I find irresistible.
As we head into the Great Fifty Days of Easter, I pray that sense of immediacy and enthusiasm would be with you as you pray, care for one another, and serve Jesus. As you seek to follow Jesus in the season that follows the Great Day of the Resurrection, may your words be quick to bless and your deeds be fervent in service!
Christ is Alive, brothers and sisters! Let us rejoice in his life among us!
Yours in Christ,
Father David+
A Letter from Father David about Expanding In-Person Worship Offerings
March 18, 2021
Dear Friends in Christ,
I am excited to be able this week to announce that Saint John's Church will be expanding in-person worship in a deliberate and phased approach beginning the weekend of March 21. As a first step, we will be adding a second in-person worship option for Sundays: the 10 a.m. Holy Eucharist.
Along with the lay leadership and staff, I want to welcome back parishioners and invite visitors into our treasured church on Sundays for our second service of the day. This mass is accompanied by the organ and four well-distanced singers, uplifting us in the very special way that only music can enrich our worship. At this time, no congregational singing is permitted.
The 10 a.m. Sunday service, and all events in the main worship space, are limited to the attendance of no more than fifty. This number is exclusive of the altar party, musicians and AV teams in the balcony, which remain around ten or fewer persons.
In the days ahead, we will also be sharing more information about all the amazing Holy Week and Easter services the staff has planned. Some will be online only, others in-person only, and many offered in both methods of participation. Reservations will open at the time that the events are published in church emails.
Coming together as a community, lifting prayers and sharing the Holy Eucharist…these are fundamental aspects of our lives together and followers of Christ. With guidance of the Diocese, and in consideration of the novel coronavirus numbers declining in Tulsa, we are taking this next step toward opening up with joy and humility. As YOU feel ready and feel safe to return to in person worship, know that we are being as careful as possible at Saint John's Church.
We will continue to employ safety practices as we gather, including limiting seating at each event, offering generous spacing in the pews, requiring mask wearing, taking temperatures at the reservation check-in stand, sanitizing high-touch areas, and other measures to keep our parishioners, visitors and staff as safe as we can.
But remember, this is still a time to proceed with care. If you have not received your full dose of virus vaccine, think about joining us online only until your vaccine is fully effective. And of course, if you or any household member are feeling unwell, please rest up and wait to join us in a couple of weeks.
And if you do not feel this is the right time for you or your family to come back into the church, know that is okay! When you join us online for the sharing of the sacraments, you are still participating fully and with our community.
We encourage you to follow updates on our website and through our email communications, where you will find the latest news of when each additional ministry or aspect of our church life will resume or expand. At this time, and for the immediate future, you must register for each event or service you desire to attend, so that we do not exceed our safe capacity maximum. Look for invitation emails from the church office to RSVP. You can also call or email Diana Carter directly to register.
If you have children, please communicate with our staff about your interest in nursery services. While nursery services will not be available during the initial phase of reopening, understanding the level of interest will help us to prepare for the future time when the family option can again safely be made available.
As the virus situation in Tulsa continues to improve, we will look toward resuming small groups, so please watch for updates in our e-news and on the website. It may take many more months, but we will return to normal routines and activities in the life of our beloved church.
In the building or participating from home, God is continuing to weave us together in a community of love and discipleship. Thank you for your continued support of Saint John's Church and all you do outside her walls to spread the love of God and the lessons of his son, Jesus.
Yours in Christ,
Father David+
A Message from Father David form the Evangelist Newsletter
March 1, 2021
Lenten greetings to you, beloved!
I pray your Lenten disciplines are going well and I hope that Christ will continually make himself known to you throughout this season.
I suspect that March of this year carries with it a deeper solemnity. By the mid-point of this month, we will observe the sad anniversary of COVID-19's most profound effect on human life. Last March was when most people in our country, and across the world, entered into quarantine and lockdown. The inter-vening year since has been a sobering reminder of human fragility, both in terms of our susceptibility to sickness and our propensity towards division.
Throughout this year, many Biblical texts have swirled through my mind. As I have reflected over the past season, one of Saint Paul's encouragements to the Church in Rome has risen to the top of that churn. In the twelfth chapter of his letter to the Romans, Paul was helping that community to draw together under the Lordship of Christ, even as they faced bitter divisions in the body. The second verse of that chapter is the one that stands out to me:
"Do not conform to the pattern of this world, but be transformed by the renewal of your mind."
The rest of the text around this verse is a reminder that the offering of one's self to the work of Christ's service is an act of sacrifice, and an act of humility that allows for the continued flourishing of God's Kingdom by the faithful work of healthy body. Paul even uses the familiar "body parts" analogy in Romans 12, perhaps more succinctly than his more famous teaching in 1 Corinthians, but still to great effect. In essence, we are reminded that the healthy body is made up of members working in concert. In the spiritual and community life of the Church, the lifeblood of this healthy body is Christ's humility.
By seeking Christ's humility, especially in this penitential season of Lent, we are laying aside the pattern of this world; the pattern of pride, vanity and selfishness. Beloved, I don't want you to read this as an admonishment for your current situation here at Saint John's. As I write this, I will have been here a few fleeting weeks and that would seem quite rude! Rather, this is a consideration that I believe is true no matter the age in which the Church has served.
Therefore, I pray that Christ's humility would be with you and in you as we begin to peer over the gates that the virus has imposed on us. We need only look to the 25th of this month for a clinic in humility through the feast of the Annunciation. In seeking after Christ this Lent, may we be found saying "Be it unto us according to thy Word!"
Blessings,
Father David +
A Message from Father David from the Evangelist Newsletter
Feb. 2, 2021
Greetings in the name of Jesus!
It is hard to believe it is February already! For Beka and myself, the wonderful memories of our first trip to meet and greet the wonderful leadership of Saint John's Church are fresh in our minds. We are deeply grateful to the Vestry, wardens, search committee members, and staff for their hospitality. They showed us such a great time at the parish and gave us just a little tantalizing taste of Tulsa.
We felt immediately at home when we came to see you! Despite the great experience we had during our interview weekend, little butterflies crept into our stomachs. We soon realized how disappointed we would be if we weren't called to Saint John's! By the time Jim Hicks phoned to extend the call, both Beka and I were ready to pop with anticipation. I could not hide my excitement and enthusiasm when I called Jim back to accept the call!
Please know that we are delighted to join you here in Tulsa and look forward to many years of ministry with you. As I write this, the Church across the world is well into the season after the Epiphany. It is a season of the church year wherein the faithful are reminded Sunday by Sunday, week by week, that God came into the world in Christ to manifest his glory and love to all nations. If we pray through the Daily Offices and pay attention to the lessons on Sunday, we might find some of our favorite examples of Jesus' teachings and miracles in this season. As faithful readers of the text, we are meant to prayerfully consider how each movement within Christ's ministry declares the love of God to a needful world.
Beloved, we are meant to consider Christ's ministry carefully so that we may enact that same ministry here in Tulsa and to the ends of the earth. We are meant to be little epiphanies, little manifestations, of Christ's great love. I think it's fair to say that the world around us could use a few manifestations of love, wouldn't you? If the news is any measure, the entire Church has a lot of work to do.
I pray that as I begin my rectorate here at Saint John's Church, I can help you in that regard. It is not lost on me that Beka and I come to you during Epiphanytide, a season of manifesting Christ's love. Perhaps God is preparing our hearts, feet and hands for the remarkable work of making Christ known, worshiped and obeyed, as the collect for II Epiphany bids us. I can't wait to begin that work with you in earned!
Father David +
A Message from Our Senior Warden
December 17, 2020
Brothers and Sisters in Christ,
I bring you glad tidings and joyful news. It is with great pleasure that I share the Very Rev. David S. Bumsted has accepted the call of our Vestry and the Search Committee to become the next rector of our beloved Saint John's Episcopal Church. I extend my deepest thanks to each of you for your patience, prayers and commitment to this endeavor and period of discernment.
Father David comes to us from Emmanuel Episcopal Church in Orlando, Florida, where he is rector. Prior to ministry at Emmanuel, he was the Priest Associate for Youth Ministry at Sarasota, Florida's Church of the Redeemer. In addition, his career experiences include serving as a case manager at Covenant House, a residential care program and drop-in shelter in Orlando, and as a teaching assistant in liturgy at Nashotah House Theological Seminary in Nashotah, Wisconsin. He earned a master's degree in divinity from Nashotah House and received a bachelor's degree in international affairs from Florida State University in Tallahassee.
Elected Dean of the Central Deanery for the Episcopal Diocese of Central Florida in 2018, Father David has demonstrated his talent and diligence as a priest and servant of God. He
is committed to the liturgical, spiritual, and theological dimensions of our faith tradition. I know you will be as excited as I am to bring his energetic ministry and experience guiding souls of all ages to our community.
We owe a debt of gratitude to our search committee members chaired by Jeff Baum. The members of this team have spent countless hours reviewing applications, vetting, observing online sermons, and interviewing qualified candidates. Much time has been spent in prayer and study to discern the holy call of our next rector. You may feel assured God has brought us the best individual for the future of our lives together. Now, it is up to us as a community
of Christ to come around this man and his wife, Beka, to help move the church forward into a new chapter of our lives together.
Father David and Beka will spend their last holiday season in Orlando as he prepares his existing parish for his departure and the couple makes plans for a move to Tulsa. His first day with us in the office and in the pulpit is being firmed up now, but is likely to be near the first of February. Please find additional information about his qualifications and service posts on our church website next week.
In the midst of this most unusual of Advent seasons, this is a wonderful blessing for our parish! Please tell all your friends and families that God is good and Saint John's Church is joyful!
Faithfully Yours, Jim Hicks, Senior Warden
Media Release - 12.17.20 - Saint John's Episcopal Church Announces New Rector
Tulsa, Okla. – Saint John's Episcopal Church in Tulsa announced this week it has selected a new rector as head of the parish. The Very Rev. David S. Bumsted accepted the call to serve last week and is anticipated to begin his ministry and church operational leadership in early February 2021.
Bumsted will be the church's seventh rector. He is preceded in the position by the Rev. Samuel Colley-Toothaker, the church's interim priest-in-charge (March 2018 through October 2020) and the Rev. Irving Taylor Cutter IV, the church's sixth rector (October 2006 through December 2017).
"On behalf of the leadership, staff and parishioners of our church, we express our delight and extend a warm welcome to Father David and his wife, Rebekah," said Saint John's Senior Warden James R. Hicks. "His ministry, energy and vision will be a tremendous addition to our parish family, the neighborhood and our city."
Most recently, Bumsted was the rector of Emmanuel Episcopal Church in Orlando, Florida. Prior to ministry and business leadership at Emmanuel, he was the Priest Associate for Youth Ministry at Sarasota, Florida's Church of the Redeemer. His career experiences also include serving as a case manager at Covenant House, a residential care program and drop-in shelter in Orlando, and as a teaching assistant at Nashotah House Theological Seminary in Nashotah, Wisconsin. He was elected Dean of the Central Deanery for the Episcopal Diocese of Central Florida in 2018.
"Father David's experience in family ministry, community engagement and communicating through technology will be incredibly valuable as our Saint John's community explores the direction God is calling this church to in the decade ahead," said Hicks. "This is especially important during this unusual time of social distancing and as we grow worship and educational offerings through digital platforms."
Hicks noted that the Saint John's church vestry and search committee, after prayerful discernment, were led to call Bumsted due to his energy, career experiences, sermons, theological dimensions, enthusiasm for youth, spiritual depth and confidence in the face of the challenges modern culture and a global pandemic bring to growing a healthy parish.
"Beka and I are so excited to join the team at Saint John's," said Bumsted. "Having spent time with their search committee, vestry and staff, we feel welcomed and simply delighted to begin a new chapter of ministry in our lives."
In his role as senior rector of Saint John's Church, Bumsted will lead the parish ministries of worship, pastoral care, Christian formation, community outreach, program development and strategic planning, as well as oversee staff and vestry leadership.
"During our time in Oklahoma, my wife and I were bowled over by the beauty and vibrancy of Tulsa," said Bumsted. "We believe that our previous experiences have prepared us extremely well for the opportunities ahead. And, I can't wait to leverage them with the community at Saint John's."
Bumsted earned his master's degree in divinity from Nashotah House and received a bachelor's degree in international affairs from Florida State University in Tallahassee.