Father David's Monthly Messages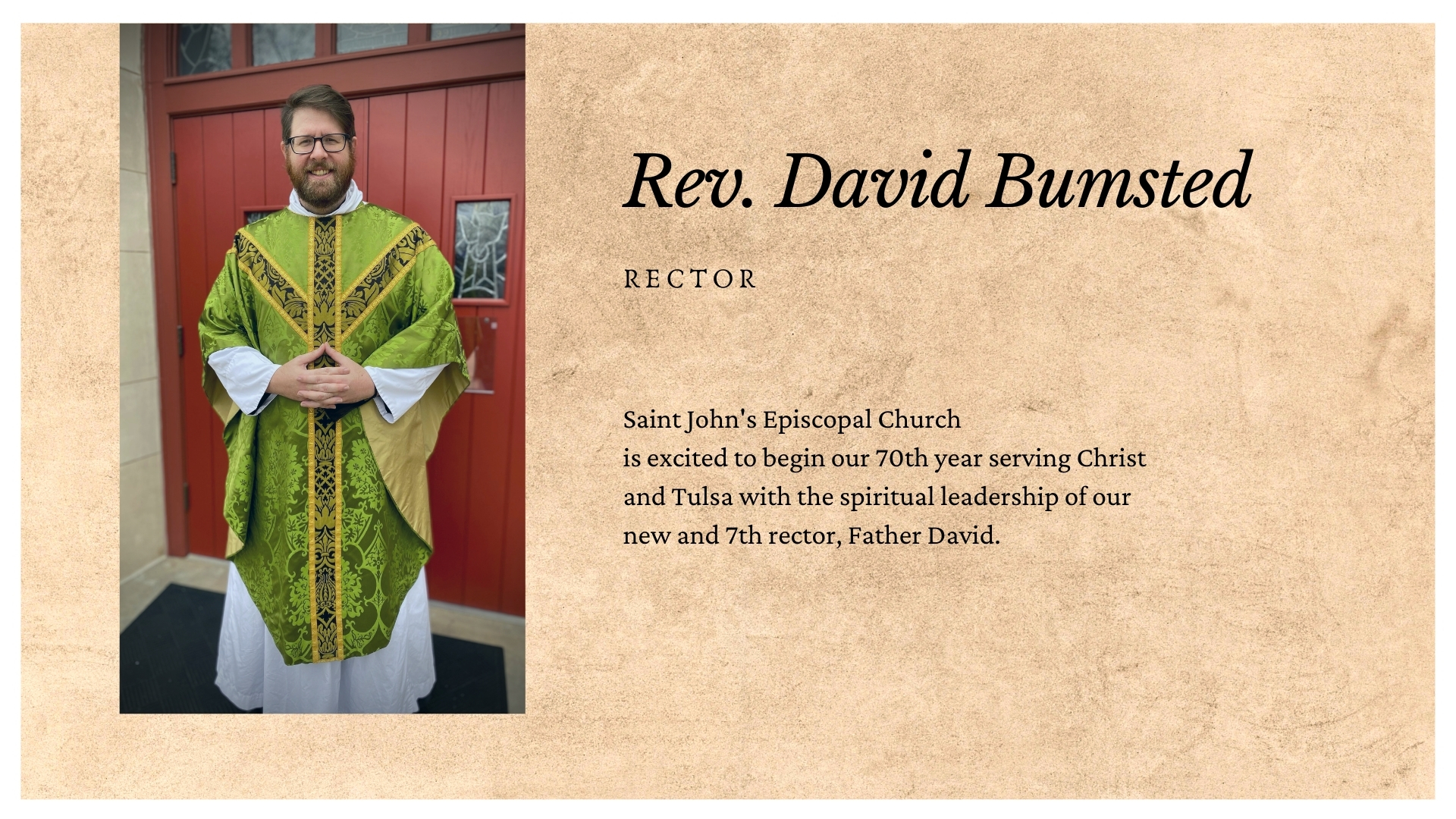 A Letter from Father David about Expanding In-Person Worship Offerings
March 18, 2021
Dear Friends in Christ,
I am excited to be able this week to announce that Saint John's Church will be expanding in-person worship in a deliberate and phased approach beginning the weekend of March 21. As a first step, we will be adding a second in-person worship option for Sundays: the 10 a.m. Holy Eucharist.
Along with the lay leadership and staff, I want to welcome back parishioners and invite visitors into our treasured church on Sundays for our second service of the day. This mass is accompanied by the organ and four well-distanced singers, uplifting us in the very special way that only music can enrich our worship. At this time, no congregational singing is permitted.
The 10 a.m. Sunday service, and all events in the main worship space, are limited to the attendance of no more than fifty. This number is exclusive of the altar party, musicians and AV teams in the balcony, which remain around ten or fewer persons.
In the days ahead, we will also be sharing more information about all the amazing Holy Week and Easter services the staff has planned. Some will be online only, others in-person only, and many offered in both methods of participation. Reservations will open at the time that the events are published in church emails.
Coming together as a community, lifting prayers and sharing the Holy Eucharist…these are fundamental aspects of our lives together and followers of Christ. With guidance of the Diocese, and in consideration of the novel coronavirus numbers declining in Tulsa, we are taking this next step toward opening up with joy and humility. As YOU feel ready and feel safe to return to in person worship, know that we are being as careful as possible at Saint John's Church.
We will continue to employ safety practices as we gather, including limiting seating at each event, offering generous spacing in the pews, requiring mask wearing, taking temperatures at the reservation check-in stand, sanitizing high-touch areas, and other measures to keep our parishioners, visitors and staff as safe as we can.
But remember, this is still a time to proceed with care. If you have not received your full dose of virus vaccine, think about joining us online only until your vaccine is fully effective. And of course, if you or any household member are feeling unwell, please rest up and wait to join us in a couple of weeks.
And if you do not feel this is the right time for you or your family to come back into the church, know that is okay! When you join us online for the sharing of the sacraments, you are still participating fully and with our community.
We encourage you to follow updates on our website and through our email communications, where you will find the latest news of when each additional ministry or aspect of our church life will resume or expand. At this time, and for the immediate future, you must register for each event or service you desire to attend, so that we do not exceed our safe capacity maximum. Look for invitation emails from the church office to RSVP. You can also call or email Diana Carter directly to register.
If you have children, please communicate with our staff about your interest in nursery services. While nursery services will not be available during the initial phase of reopening, understanding the level of interest will help us to prepare for the future time when the family option can again safely be made available.
As the virus situation in Tulsa continues to improve, we will look toward resuming small groups, so please watch for updates in our e-news and on the website. It may take many more months, but we will return to normal routines and activities in the life of our beloved church.
In the building or participating from home, God is continuing to weave us together in a community of love and discipleship. Thank you for your continued support of Saint John's Church and all you do outside her walls to spread the love of God and the lessons of his son, Jesus.
Yours in Christ,
Father David+
A Message from Father David form the Evangelist Newsletter
March 1, 2021
Lenten greetings to you, beloved!
I pray your Lenten disciplines are going well and I hope that Christ will continually make himself known to you throughout this season.
I suspect that March of this year carries with it a deeper solemnity. By the mid-point of this month, we will observe the sad anniversary of COVID-19's most profound effect on human life. Last March was when most people in our country, and across the world, entered into quarantine and lockdown. The inter-vening year since has been a sobering reminder of human fragility, both in terms of our susceptibility to sickness and our propensity towards division.
Throughout this year, many Biblical texts have swirled through my mind. As I have reflected over the past season, one of Saint Paul's encouragements to the Church in Rome has risen to the top of that churn. In the twelfth chapter of his letter to the Romans, Paul was helping that community to draw together under the Lordship of Christ, even as they faced bitter divisions in the body. The second verse of that chapter is the one that stands out to me:
"Do not conform to the pattern of this world, but be transformed by the renewal of your mind."
The rest of the text around this verse is a reminder that the offering of one's self to the work of Christ's service is an act of sacrifice, and an act of humility that allows for the continued flourishing of God's Kingdom by the faithful work of healthy body. Paul even uses the familiar "body parts" analogy in Romans 12, perhaps more succinctly than his more famous teaching in 1 Corinthians, but still to great effect. In essence, we are reminded that the healthy body is made up of members working in concert. In the spiritual and community life of the Church, the lifeblood of this healthy body is Christ's humility.
By seeking Christ's humility, especially in this penitential season of Lent, we are laying aside the pattern of this world; the pattern of pride, vanity and selfishness. Beloved, I don't want you to read this as an admonishment for your current situation here at Saint John's. As I write this, I will have been here a few fleeting weeks and that would seem quite rude! Rather, this is a consideration that I believe is true no matter the age in which the Church has served.
Therefore, I pray that Christ's humility would be with you and in you as we begin to peer over the gates that the virus has imposed on us. We need only look to the 25th of this month for a clinic in humility through the feast of the Annunciation. In seeking after Christ this Lent, may we be found saying "Be it unto us according to thy Word!"
Blessings,
Father David +
A Message from Father David from the Evangelist Newsletter
Feb. 2, 2021
Greetings in the name of Jesus! It is hard to believe it is February already! For Beka and myself, the wonderful memories of our first trip to meet and greet the wonderful leadership of Saint John's Church are fresh in our minds. We are deeply grateful to the Vestry, wardens, search committee members, and staff for their hospitality. They showed us such a great time at the parish and gave us just a little tantalizing taste of Tulsa.
We felt immediately at home when we came to see you! Despite the great experience we had during our interview weekend, little butterflies crept into our stomachs. We soon realized how disappointed we would be if we weren't called to Saint John's! By the time Jim Hicks phoned to extend the call, both Beka and I were ready to pop with anticipation. I could not hide my excitement and enthusiasm when I called Jim back to accept the call!
Please know that we are delighted to join you here in Tulsa and look forward to many years of ministry with you. As I write this, the Church across the world is well into the season after the Epiphany. It is a season of the church year wherein the faithful are reminded Sunday by Sunday, week by week, that God came into the world in Christ to manifest his glory and love to all nations. If we pray through the Daily Offices and pay attention to the lessons on Sunday, we might find some of our favorite examples of Jesus' teachings and miracles in this season. As faithful readers of the text, we are meant to prayerfully consider how each movement within Christ's ministry declares the love of God to a needful world.
Beloved, we are meant to consider Christ's ministry carefully so that we may enact that same ministry here in Tulsa and to the ends of the earth. We are meant to be little epiphanies, little manifestations, of Christ's great love. I think it's fair to say that the world around us could use a few manifestations of love, wouldn't you? If the news is any measure, the entire Church has a lot of work to do.
I pray that as I begin my rectorate here at Saint John's Church, I can help you in that regard. It is not lost on me that Beka and I come to you during Epiphanytide, a season of manifesting Christ's love. Perhaps God is preparing our hearts, feet and hands for the remarkable work of making Christ known, worshiped and obeyed, as the collect for II Epiphany bids us. I can't wait to begin that work with you in earned!
Father David +
A Message from Our Senior Warden
December 17, 2020
Brothers and Sisters in Christ,
I bring you glad tidings and joyful news. It is with great pleasure that I share the Very Rev. David S. Bumsted has accepted the call of our Vestry and the Search Committee to become the next rector of our beloved Saint John's Episcopal Church. I extend my deepest thanks to each of you for your patience, prayers and commitment to this endeavor and period of discernment.
Father David comes to us from Emmanuel Episcopal Church in Orlando, Florida, where he is rector. Prior to ministry at Emmanuel, he was the Priest Associate for Youth Ministry at Sarasota, Florida's Church of the Redeemer. In addition, his career experiences include serving as a case manager at Covenant House, a residential care program and drop-in shelter in Orlando, and as a teaching assistant in liturgy at Nashotah House Theological Seminary in Nashotah, Wisconsin. He earned a master's degree in divinity from Nashotah House and received a bachelor's degree in international affairs from Florida State University in Tallahassee.
Elected Dean of the Central Deanery for the Episcopal Diocese of Central Florida in 2018, Father David has demonstrated his talent and diligence as a priest and servant of God. He
is committed to the liturgical, spiritual, and theological dimensions of our faith tradition. I know you will be as excited as I am to bring his energetic ministry and experience guiding souls of all ages to our community.
We owe a debt of gratitude to our search committee members chaired by Jeff Baum. The members of this team have spent countless hours reviewing applications, vetting, observing online sermons, and interviewing qualified candidates. Much time has been spent in prayer and study to discern the holy call of our next rector. You may feel assured God has brought us the best individual for the future of our lives together. Now, it is up to us as a community
of Christ to come around this man and his wife, Beka, to help move the church forward into a new chapter of our lives together.
Father David and Beka will spend their last holiday season in Orlando as he prepares his existing parish for his departure and the couple makes plans for a move to Tulsa. His first day with us in the office and in the pulpit is being firmed up now, but is likely to be near the first of February. Please find additional information about his qualifications and service posts on our church website next week.
In the midst of this most unusual of Advent seasons, this is a wonderful blessing for our parish! Please tell all your friends and families that God is good and Saint John's Church is joyful!
Faithfully Yours, Jim Hicks, Senior Warden
Media Release - 12.17.20 - Saint John's Episcopal Church Announces New Rector
Tulsa, Okla. – Saint John's Episcopal Church in Tulsa announced this week it has selected a new rector as head of the parish. The Very Rev. David S. Bumsted accepted the call to serve last week and is anticipated to begin his ministry and church operational leadership in early February 2021.
Bumsted will be the church's seventh rector. He is preceded in the position by the Rev. Samuel Colley-Toothaker, the church's interim priest-in-charge (March 2018 through October 2020) and the Rev. Irving Taylor Cutter IV, the church's sixth rector (October 2006 through December 2017).
"On behalf of the leadership, staff and parishioners of our church, we express our delight and extend a warm welcome to Father David and his wife, Rebekah," said Saint John's Senior Warden James R. Hicks. "His ministry, energy and vision will be a tremendous addition to our parish family, the neighborhood and our city."
Most recently, Bumsted was the rector of Emmanuel Episcopal Church in Orlando, Florida. Prior to ministry and business leadership at Emmanuel, he was the Priest Associate for Youth Ministry at Sarasota, Florida's Church of the Redeemer. His career experiences also include serving as a case manager at Covenant House, a residential care program and drop-in shelter in Orlando, and as a teaching assistant at Nashotah House Theological Seminary in Nashotah, Wisconsin. He was elected Dean of the Central Deanery for the Episcopal Diocese of Central Florida in 2018.
"Father David's experience in family ministry, community engagement and communicating through technology will be incredibly valuable as our Saint John's community explores the direction God is calling this church to in the decade ahead," said Hicks. "This is especially important during this unusual time of social distancing and as we grow worship and educational offerings through digital platforms."
Hicks noted that the Saint John's church vestry and search committee, after prayerful discernment, were led to call Bumsted due to his energy, career experiences, sermons, theological dimensions, enthusiasm for youth, spiritual depth and confidence in the face of the challenges modern culture and a global pandemic bring to growing a healthy parish.
"Beka and I are so excited to join the team at Saint John's," said Bumsted. "Having spent time with their search committee, vestry and staff, we feel welcomed and simply delighted to begin a new chapter of ministry in our lives."
In his role as senior rector of Saint John's Church, Bumsted will lead the parish ministries of worship, pastoral care, Christian formation, community outreach, program development and strategic planning, as well as oversee staff and vestry leadership.
"During our time in Oklahoma, my wife and I were bowled over by the beauty and vibrancy of Tulsa," said Bumsted. "We believe that our previous experiences have prepared us extremely well for the opportunities ahead. And, I can't wait to leverage them with the community at Saint John's."
Bumsted earned his master's degree in divinity from Nashotah House and received a bachelor's degree in international affairs from Florida State University in Tallahassee.