Music at Midday
Music at Midday
Free Half Hour Recitals
Wednesdays at 12 noon
*Followed by Lunch at 12:30 p.m.*
Season 7 begins on September 22, 2021
with a recital by pianist Barron Ryan.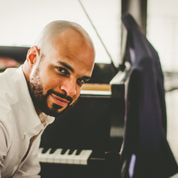 *We will be offering Queenie's boxed lunches at 12:30 p.m. The cost is $12 per person.*
This includes a half sandwich (chicken salad, egg salad, or ham and swiss) plus fruit and a cookie.
To reserve your lunch, contact Diana Carter by 12 noon on the preceding Monday.
dcarter@sjtulsa.org
Schedule of Musicians - Fall 2021
September 22
Barron Ryan, piano
September 29
Joseph Arndt, organ
October 6
Paul Sweet, piano
October 13
Caroline Robinson, organ
October 20
Duo Avanzando
David Carter, clarinet
Ricardo Souza, percussion
October 27
OTIS Trio
Dawn Lindblade, clarinet
Tess Remy-Schumacher, cello
Sallie Pollack, piano
Music Programs
April 20, 2021
Music at Midday on 21 April 2021.pdf
Guest organist Patrick Scott performs music of Craig Phillips, Herbert Howells, Gerre Hancock, and an improvised recital incorporating three submitted themes.
Welcome to another season of music at Saint John's
Episcopal Church. We offer it all to the glory of God and for
the enrichment of the Tulsa community and beyond.
Yours sincerely,
Joseph Arndt
Music Director