Course: Living Discipleship - Exploring the Bible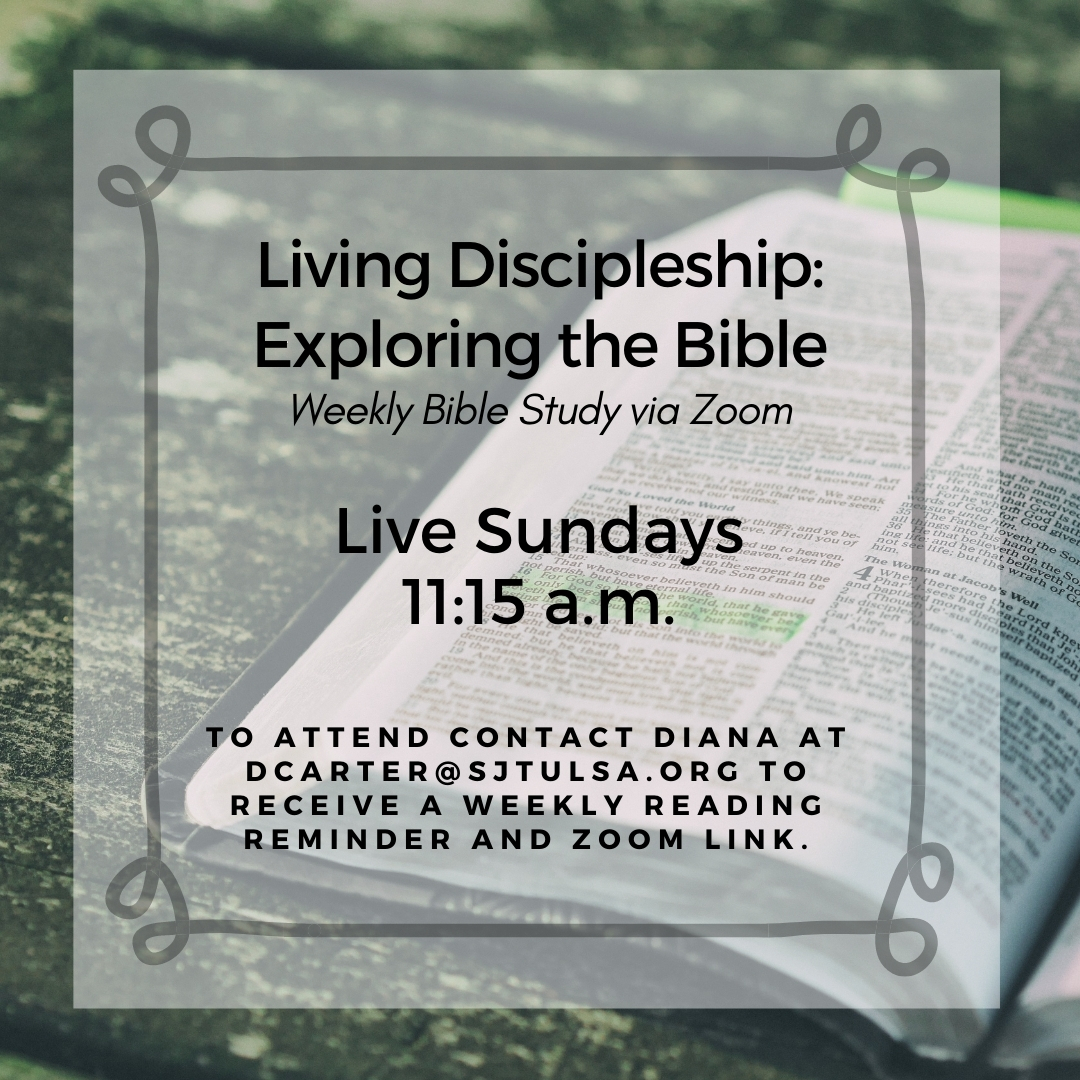 Living Discipleship: Exploring the Bible, continues in the spring of 2021 on Sundays. This is a journey through the scriptures, from Genesis to Revelation. We look at narratives in the Bible to see the great story of God's love from the beginning of creation, through the life of Jesus Christ, and in our own time guided by the Holy Spirit.
The class is offered via Zoom on Sundays (live) and via Facebook (@sjtulsa) and repeated on Wednesdays (recorded). Join in anytime for "virtual" classes live, or watch at your convenience with the recordings. Or do both. All are welcome! You will find all our past weeks saved on on Facebook.
You may use either your own Bible and read the scripture for each Sunday or you can purchase the companion book, The Path: A Journey Through the Bible, available from Forward Movement or from Amazon, which includes commentary and questions. The Path presents excerpts from the Bible that cover most of the "greatest hits" from the Bible story. It is intended to give you an idea of the overarching narrative, the sweeping story of God's great love for us.
The class is facilitated beginning in January 2021 by Joshua Corsaro, our associate for Youth and Family Ministry. A Zoom link is included in the Sunday morning emailed news to our Constant Contact email subscribers. If you want to receive that email, simply request it at dcarter@sjtulsa.org.
Upcoming topics and/or assignments:
The Path Chapter 17
Luke 3:2-6 | 4:14-22 | 10:25-37 | 15:1-2, 11-32 | 16:19-31
Mark 1:9-13, 16-20 | 2:23-3:6 | 4:1-20
John 1:43-51
Matthew 4:23-5:24, 27-32, 38-48 | 6:19-34 | 7:24-29 | 25:31-40
Discussion:
What common themes emerge in this selection of Jesus' teachings? How are they different from what you remember? How are they the same?
Jesus' actions and teaching led to a lot of conflict with the religious authorities of the day. What is at the heart of their disagreements in these texts?
Do you think Jesus focuses more on behavior or belief? Which do you think is more important? Why?
The last two parables depict scenes of judgment. Many are surprised to learn that Jesus spoke more about hell than Paul the Apostle. Does this surprise you? Why or why not?
The interpretation of the parable of the sower seems to suggest that Jesus sometimes taught in parables so that people would NOT understand. What do you think of this explanation? Do you find it problematic? Why or why not?
In response to questions or criticism, Jesus often tells stories. Why do you think Jesus teaches in this way? What stories (biblical or otherwise) have been important in your life or faith?
Recent class recording: Exploring the Bible - Week Eighteen
Recent class recording: Exploring the Bible - Week Nineteen
(Available the evening of March 3)