Music at Midday
Music at Midday
Wednesdays at Noon
Spend your Wednesday lunch hour with Saint John's!
Music at Midday recitals are a great way to experience a "mini-concert" in the middle of your week. Each recital begins at noon and is followed by a homemade lunch at 12:30 pm for a suggested donation of $8. Music at Midday is unique in Tulsa for the hospitality and meals we offer, and this effort is made possible by the efforts of generous volunteers. We owe particular thanks to Janice Ingle for her leadership as Chairman of the Music at Midday Committee.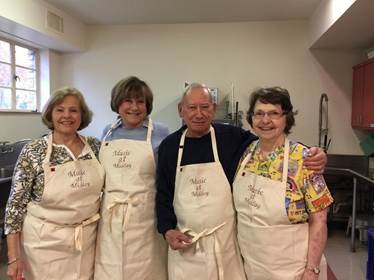 Carolyn Shorten, Janice Ingle, Tim Wilson, and Carteena Robohm take a break while preparing lunch.
The recital series will include performances by nationally and internationally renowned musicians. Contact Joseph Arndt for more information:
Music at Midday Season 4
Spring 2019
The Spring 2019 portion of Music at Midday will celebrate the dedication of the new Schoenstein Organ at Saint John's Church. Joseph Arndt, Adam Pajan, and a number of guest artists will offer recitals that will showcase the new organ in a number of different repertoire styles.
March 13
Joseph Arndt, organ
March 20
Bryan Anderson, organ
March 27
Samuel Backman, organ
April 3
Jillian Gardner, organ
April 10
Damin Spritzer, organ
April 17
Holy Week Meditation
Joseph Arndt, organ
April 24
Adam Pajan, organ
May 1
Grace Wollett, violin
Joseph Arndt, organ
Fall 2018
Wednesdays from September 19 – November 14
Free Recitals at Noon, followed by lunch for $8 at 12:30 in the Common Room
September 19
Joseph Arndt, organ
September 26
Elliott Wulff, baritone
Whitney Hollis, piano
October 3
Meray Boustani, soprano
Whitney Hollis, piano
October 10
Tulsa Symphony Wind Quintet
October 17
Eric Smith, viola da gamba
Joseph Arndt, harpsichord
October 24
Rossitza Jekova-Goza, violin
Lyndon Meyer, piano
October 31
Tess Remy-Schumacher, cello
Dawn Lindblade, clarinet
November 7
Adam Pajan, organ
November 14
Mary Ann Stewart, soprano
Paul Sweet, piano